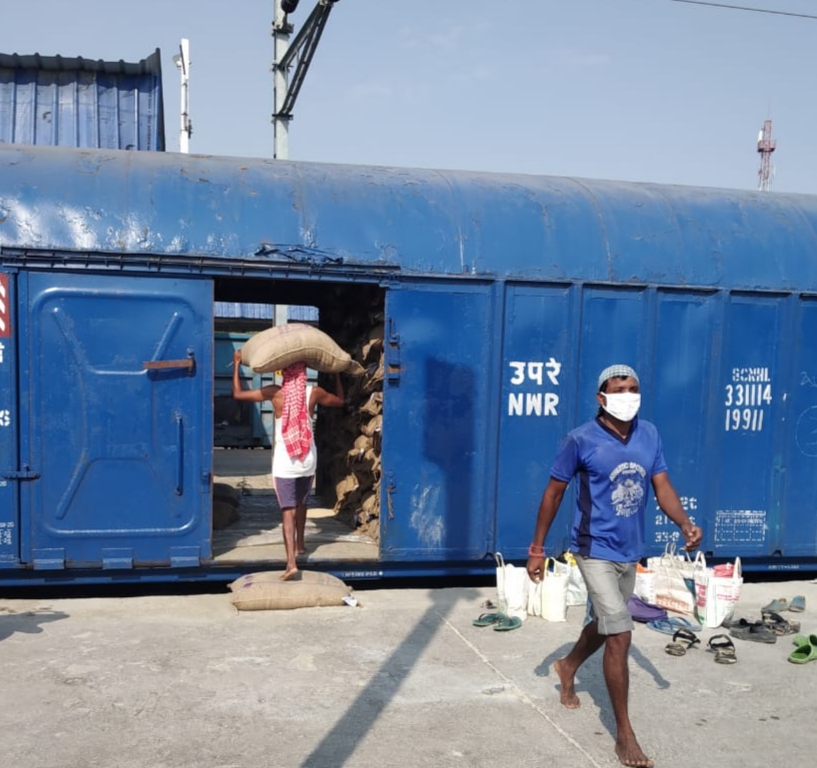 Bhubaneswsr: Considering the pandemic COVID-19, Indian Railways has announced a slew of incentives to the freight customers.
• To facilitate freight customers and to provide logistics support for movement of essential goods in view of COVID pandemic, the competent authority has decided that under force majeure, Demurrage, Wharfage, Stacking, Stabling charges in case of goods/parcel traffic & Detention Charge and Ground Usage Charge for container traffic will not arise. These guidelines are applicable from 22.03.2020 to 03.05.2020.
• Electronic registration of demand (e-RD) , the facility to customers to register their demands for goods electronically, Electronic Transmission of Railway Receipt (eT-RR) through FOIS(Freight Operation Information System) and delivery of goods through e-surrender of eT-RR have been implement to avoid visit of good shed physically by the customers and make process more convenient. Its benefit have been extended to Freight Forwarders, Iron & Steel, Iron ore & Salt traffic.
• Delivery of goods in absence of Railway Receipt (RR):
A) As far as possible eT-RRs may be issued where delivery is given on e-surrender of eT-RR.
B) In case of normal non eT-RRs (paper RRs), details of consignee/receiver like name, designation, Aadhar, PAN, GSTIN will be taken from consignor,conveyed to destination & delivery will be given after verification of these details in TMS and collecting unstamped indemnity note stating that any claim arising thereof would be their responsibility and with fax/scanned/photocopy of RR.
C) Further, in case of self RR (where consignor & consignee are same), the originating division will take back the original RR from consignor, after duly recording endorsement in the name of consignee who will take delivery of RR consignment at destination, conveyed to the destination along with details of name, PAN, Aadhar and GSTIN & destination station will affect physical as well system delivery after verification. "No claims" declaration be obtained at originating Division as procedure is followed under force majeure. These guidelines are valid upto 03.05.2020.
• Policy measure to encourage container traffic :
A) Non levy of Haulage Charge for movement of empty containers and empty flats from 24.03.2020 till 30.04.2020. This is expected to give a boost not only to IR but also the economy by aiding exports.
B) Relaxation under Hub & Spoke system of charging for container traffic :Keeping in view the fact that ICDs are choked due to delays in clearance of cargo due to the impact of corona virus, it is decided to relax the limit from five days to fifteen days for availing the telescopic benefit valid from 16.04.2020 to 30.05.2020.
• Relaxations in Freight transportation:
A) Distance restriction for mini rake of 600 km(1000 kms for intra zonal traffic), has been permitted up to 1500 km for both inter zonal and intra zonal traffic.
B) Distance restriction of 200 km in lean season and 400 km in busy season for rakes originating at two points has now been relaxed to allow loading points to be apart upto 500 km, regardless of the season.
C) Minimum number of wagons to be loaded for availing train load benefit has now been reduced from 57 to 42 wagons for BCNHL wagons (covered wagons) which are primarily used for bagged consignments, like food grains, agricultural produce like onions etc. in order to support loading of essential food items.
"These relaxations are valid till 30.09.2020", said East Coast Railway spokesperson, here on Thursday.