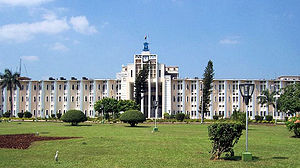 Bhubaneswar: The Odisha government is exploring the possibility of mobilising resources from unconventional sources as the Coronavirus pandemic throwing the State budget into haywire.
Sand-witched between poor revenue realisation and burgeoning health expenditure at the time of Covid-19 pandemic, the State government's Team Finance under the captainship of finance principal secretary Ashok Meena is now looking at borrowing money from the Compensatory Afforestation Fund Management Authorities (CAMPA) and cash-rich government PSUs.
Armed with the permission of the CAMPA State Oversight Authority headed by former supreme court judge Ananga Patnaik to borrow from the Fund, the State is now discussing with the Centre to avail the loan.
Odisha has over Rs 5,500 crore in the CAMPA fund. The State proposes to borrow 60% of the fund when needed instead of going for market borrowing. This would save about 1 to 1.5% interest cost.
CAMPA fund is generally parked in Central government securities (G-Secs) which yield 4.5% for the maximum maturity allowed upto 364 days. Whereas, the market borrowing cost Odisa about 6% for maturity upto 1 year period. Thus there would be a savings of about 1.5% in interest outgo for the State.
As per the Forest Conservation Act, 1980, the Central CAMPA collects money from the users of the forest land for non-forest purpose, for compensatory afforestations. The Central CAMPA, however, under the direction of the supreme court has been transferring the CAMPA funds to the States.
The Team Finance has urged the Centre to allow it to use the District Mineral Fund (DMF) to meet its contingency funding needs. The Centre has recently allowed the States to use upto of 30% of the Fund for the purpose. Odisha government, which has over Rs 7,000 crore in its DMF, has asked the Centre to remove the 30% cap to enable the State to use the fund in targeted districts to fight the Coronavirus pandemic.
Odisha government is also proposing to take soft loan form its cash-rich Mineral Area Bearing Development Corporation (MABDC). The State PSU is saddled with Rs 17,000 crore surplus.