Bhubaneswar: NTPC units of Orissa has come forward to extend help to Orissa government. NTPC-Darlipali has come forward to support the Sundargarh and Jharsuguda district administration by providing large number of face/nose masks for distribution among the public.
Over 50,000 (Fifty thousand) nose masks were handed to Sundergarh collector Nikhil Pawan Kalyan, by NTPC- Darlipalli GM (O & M) KS Sundaram and AGM (HR) Wilson Abraham.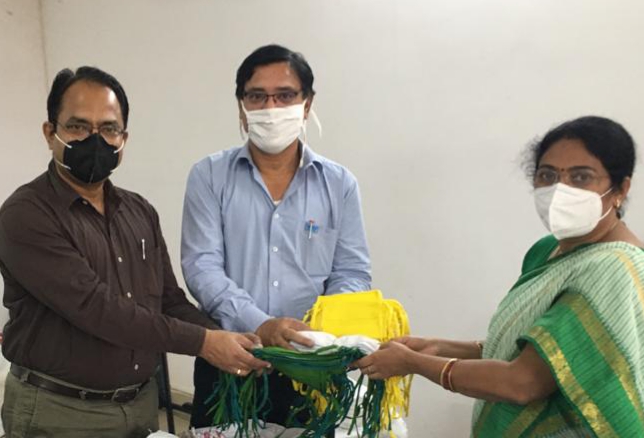 Another lot of 50,000 nose masks were handed over to Jharsiguda collector Saroj Kumar Samal and deputy collector Alomani Sethi by NTPC -Darlipali GM (Project) Kameshwar Jha and AGM (HR) Wilson Abraham for distribution among the public of Sundargarh and Jharsuguda districts respectively.
NTPC units at Kaniha and Talcher in Angul district are also extending similar help to local administration. Till now 1.34 lakh masks have already been distributed by units of NTPC in Orissa. These masks are made locally by Self Sustaining Groups (SSG) costing about Rs 17 each, thus providing a means of livelihood in these troubled times for the people engaged in such SSGs.

All the NTPC units have distributed the full wages to all the contract workers (approximately 4000) even kept idle. These contract workers were also given food grains during the period along with other under privileged people of nearby locality of the plant.
Approximately 56000 Kg rice, 12000 Kg pulsed, 16000 Kg potatoes, 8500 Kg salt, 7200 Soaps have been distributed among such people . Besides, NTPC is helping in disinfecting adjacent village by spraying bleaching powder solution. Over 6000 Kg of bleaching powder have been used/distributed for sanitizing the local vicinity areas.