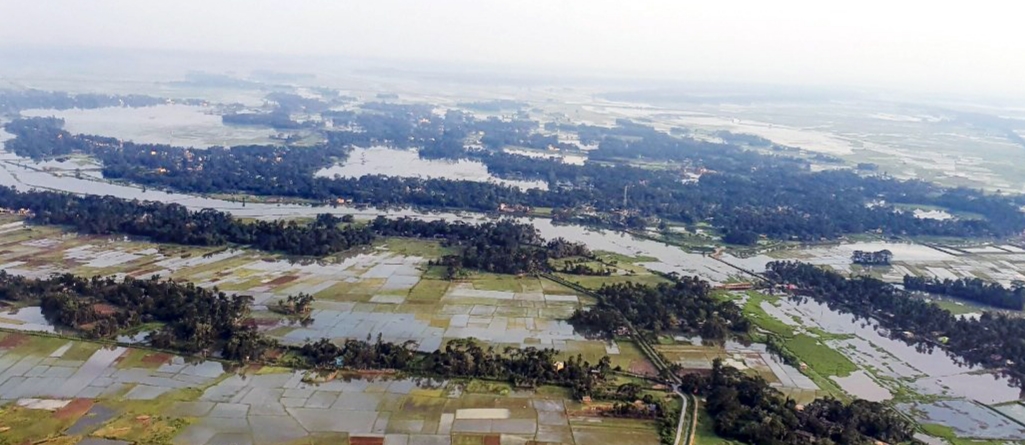 Bhubaneswar: Odisha chief minister Naveen Patnaik expressed deep grief at the loss of lives and massive damage to property in West Bengal due to cyclone. The people of Odisha stand with the people of West Bengal at this hour of crisis, the chief minister added .Chief minister also directed the chief secretary to be in touch with chief secretary of West Bengal and extend all possible support.
Odisha chief minister Naveen Patnaik Thursday made an aerial survey of the cyclone affected districts.
Patnaik expressed deep concern at the extensive damages especially to that of standing crops in those districts due to cyclone.
The chief minister ordered for repair of damaged infrastructure and early restoration of normalcy in those districts .
He has directed for road clearance and connectivity issues will be sorted out by tomorrow morning. He also directed to restore power supply in areas under CESU in next 24 hrs and areas under NESCO in 72 hrs. Man power and material mobilized for restoration on war footing
Patnaik has directed to complete assessments of agriculture crop damages in 3 days and survey of damages to houses and buildings in a weeks time.
Meanwhile, prime minister Narendra Modi is expected to make an ariel survey of Cyclone Amphan affected areas of Odisha & West Bengal.
The Cyclone Amphan has played havoc in the districts of South & North 24 Pragana, Medinapur, Hubli and Kolkata metro city in West Bengal. Over 72 people killed and several hundres injured as the cyclone caused widespread damage to houses and other instalations. In Odisha, it has left a trail of destruction as it passed closed to the Odisha coast. Over 40.80 lakh people in about 6745 villages under 89 blocks of 12 coastal districts were affected in the cyclone. Over 1 lakh hectares of farmland have been inundated due to heavy rainfall and sea tide.
The prime minister has praised the Naveen Patnaik government for minimising the damage due to cyclone. Modi has twittered praying early normalcy in the State.

Meanwhile, his cabinet secretary Rajiv Gauba has also complimented Odisha's response to the extremely severe cyclone Amphan, particularly in minimizing the loss of life to the least. He said this while reviewing the immediate post-cyclone scenario in the State with chief secretary Asit Tripathy on Thursday morning through a video conference.
While briefing the cabinet secretary, the Odisha chief secretary Tripathy thanked IMD for their accurate prediction about path and intensity of the cyclone; and, said that it helped Odisha in making advance preparations. The community was made aware and alert through 61.26 lakh SMS messages, vehicle mounted megaphones, alert siren and voice messages from 46 towers in vulnerable areas. The administrative setup to the village level was kept in all readiness. The prepositioned teams included 16 NDRF, 15 ODRAF, 217 Fire service teams, 75 OFDC teams. Apada Mitras and Task force teams were also prepositioned in strategic locations. Besides, 20 OFDC, 4 ODRAF and 17 Fire service teams were kept stand by for immediate for immediate response in case of any eventuality. Around 500 DG sets, 1513 inflammable tower lights and 1500 chain-shaws were deployed.
Further, Tripathy appraised that as per the instant preliminary reports received by today morning, around 89 blocks, 1500 GPs and 6745 villages have been affected. Around 2,00,400 people have been evacuated and sheltered in 3228 cyclone shelters and other safe buildings keeping in view the norms of 'social distancing'. All fishermen were brought back from the seas. Around 22050 number of fishing boats in coastal districts were berthed in safe places. About 210 medical teams and 75 veterinary teams have started their operation in affected areas. Around 44 lakh consumers under the power distribution companies like CESU and NESCO have been affected.
connectivity has been restored. Crop loss has taken place in more than one lakh hectors. Damage assessment is going on; and, it will be finalized in a couple of days.
Additional chief secretary and SRC Pradeep Kumar Jena, principal secretary home Sanjeev Chopra, principal secretary panchayati raj and drinking water Deo Ranjan Kumar Singh, principal secretary energy Bishnupanda Sethi, and principal secretary agriculture & farmers empowerment Sourav Garg joined chief secretary in this video conference. Cabinet secretary Gauba assured all help from various departments of government of India, and, asked the secretaries of both Central and State governments to stay connected with each other.