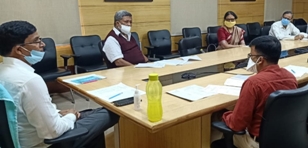 Bhubaneswar: The Odisha higher education minister Tuesday said that there would be no second and fourth semester examinations for degree students and second semester examination for post graduate students.
The minister, who presided over a meeting of vice chancellors and controllers of examinations of universities, here on Tuesday, said that the examinations for sixth semester of plus three degree courses and fourth semester of post graduate courses would be held as per the schedule.
The minister said for the first time 25% guided self study system would be introduced in plus three and PG courses.
The meeting was attended by higher education secretary Saswat Mishra, higher education council vice chairman Prof Ashok Das, and vice chalcellors of Utkal University, Ramadevi University, Khallikot University and Odisha Open University. Vice chancellors of other universities joined the meeting through video conferencing.