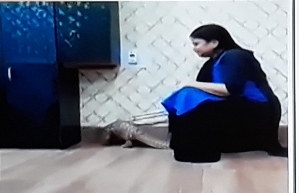 Bhubaneawar: Odisha is going to conduct Covid-19 test of a pangolin.
The pangolin was seized from a quarantine centre.
Athagarh DFO Sasmita Lenka said that swab of the pangolin has been collected and the swab will be tested in the State.
Athagarh veterinary doctor Susant Kumar Behera has collected three samples from the throat and nose of the pangolin. According to him, the samples will be sent to wildlife lab of Odisha University of Agriculture & Technology (OUAT), Bhubaneswar, for Covid-19 test.
On a tip off from Badamba Mahulia Sarpanch, the forest officials seized the pangolin Monday night from a quarantine center near the village. The pangolin had strayed in to the quarantine centre from nearby forest.
Pangolin, it is widely believed in the world, is the carrier of Covid-19 virus and has infected human being.