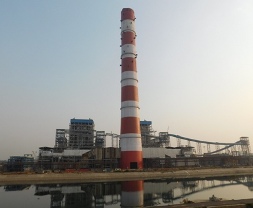 Bhubaneswar: NTPC's Darlipali Super Thermal Power Station (DSTPS) at Darlipali village in Odisha's Sundargarh district achieved 100% PLF with a generation of 19 million units (100.74%) which is highest in a single day on 5th June,2020, said a Corporation press release.
The Darlipali's Unit#1 had earlier also created a record among the NTPC stations for continuous operation of 76 days without tripping since COD (Commercial Operation Declaration). The unit is under commercial operation since 1st March 2020.
NTPC is setting up 2 units of 800 MW capacity each (Total 1600 MW) at Darlipali with an estimated investment of about Rs 12, 500 Cr.The construction work for Unit#2 is in advanced stage and is expected to be completed within this financial year.
The coal for Darlipali plant is being supplied from NTPC's own Dulanga Coal Mining Project in Sundargarh district, which is approx. 13 kms from the plant and water is drawn from Makeup Water Pump House installed at Chhadarama near Hirakud Reservoir in Jharsuguda district through pipelines of approx. 40 kms. length. From the Unit#1, Odisha gets 50% of the power generated from the plant and rest 50% goes to the neighboring States of Jharkhand, Bihar, West Bengal and Sikkim.
The NTPC Darlipali chief general manager, Sunil Kumar Satya, said, " We could achieve the milestone with the untiring efforts of our employees/family members, associates, CISF and other stakeholders." He also appreciated the support and co-operation received from the local villagers, local sarpanchs, MLAs, MPs, police and district administration of Sundargarh and Jharsuguda as well as the State government in establishment of the power plant at Darlipali and recently in ensuring uninterrupted supply of water through Makeup Water System from Hirakud Reservoir.