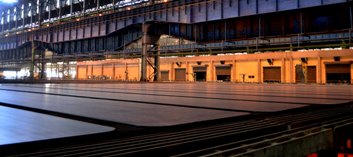 Rourkela: Rourkela Steel Plant (RSP) has enriched its product basket by making Hard Plates – a branded product of Steel Authority of India Ltd. (SAIL) for the first time. These wear resistant plates are used as liners for bunkers and hoppers meant for coal, cement and bulky raw materials.
The plates were rolled out in May 2020 by incorporating process modifications both in Steel Melting Shop-1 and New Plate Mill so as to achieve the desired physical and mechanical properties.
For achieving the hardness in rolled condition, the chemistry was designed in SMS-1 during the heat making. Hot slabs were rolled in New Plate Mill.
After successful trials in the month of May, 600 tonnes of SAIL Hard Plates have already been rolled in 4 campaigns in a span of 10 days. The plates were dispatched to bulk consumers.
Rourkela Steel Plant has plans to go in for regular production of this high value grade of plates and thereby meet the requirements of the customers.