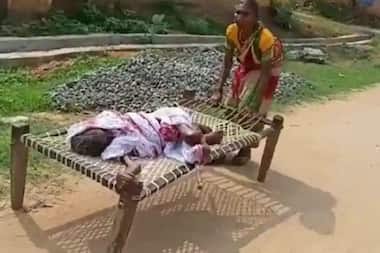 Bhubaneswar: The Utkal Gramya Bank has suspended on Monday the bank manager on the issue of a daughter dragging her mother to the bank on a cot for Jandhan money.
Taking seriously the incident, the Odisha government had requested the UGB chairman to take action against the Bank manager. Complying the government direction, the UGB chairman has suspended the Baragoan branch manager Ajit Kumar Pradhan from service. The chairman has ordered stern official disciplinary action against the branch manager.
Labhe Bag, a centenarian woman, was dragged to the bank's branch office in Baragoan under Khariar block of Nuapada district by her 60 year old daughter Punjimati for withdrawing her Jandhan money which was transfered to her account from the PM Garib Kalyan Yojana scheme.
In case of old, ailing and invalid persons like Labhe Bag, the bank manager himself or his branch staff is required to visit the house to ascertain the life certificate and payments of beneficiary money.
Videos showing Lova Baghel being dragged on cot to the bank by her daughter went viral outraging the sentiment of millions of viewers in the country.