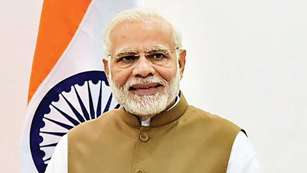 New Delhi: As many as 41 coal blocks were put on auction block for commercial mining ushering reform process in coal mines sector. The further opening of the coal sector is expected to attract Rs 33,000 crore investments in the country over next five to seven years.
The prime minister, Narendra Modi,Thursday launched the auction process stating that it is a major step in the direction of India achieving self-reliance.
The prime minister said the country is now a net importer of fossil fuel not withstanding the fact that India is the fourth largest producer of coal in the world. He said auction process not only marks the beginning of unlocking of the country's coal sector from the "lockdown of decades", but aims at making India the largest exporter of coal.
Criticising the UPA government auction policy which according to him was mired in major scams, Modi said that present auction process would be highly transparent.
The auction of the coal blocks is expected to contribute Rs20,000 crore revenues annually into the State exchequers of coal bearing States.
The government has taken an important decision to open up coal and mining sector to competition, capital and technology, he said.
Coal and mines minister Pralhad Joshi said Rs 50,000 crore is being invested in the sector to jack up India's coal output to 1 billion tonne.
With a view to achieve self-reliance in the coal sector, the ministry of coal in association with FICCI launched the process of auction of 41 coal mines under the provisions of Coal Mines (Special Provisions) Act and Mines and Minerals (Development and Regulation) Act.
The 41 mines, on attaining peak production of 225 million tonnes per annum, will contribute about 15% of the country's projected total coal production in 2025-26. More than 2.8 lakh people — direct employment to approximately 70,000 people and indirect employment to approximately 2,10,000 people– would be engaged in the sector.