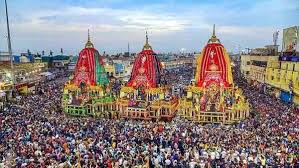 Bhubaneswar: The supreme court Thursday stayed the conduct of annual Ratha Yatra of Puri Lord Jaganath.
The apex court issued a stay order while taking up petition seeking stoppage of Ratha Yatra in view of Covid-19 pademic.
A bench headed by chief justice, SA Bobde , while hearing a plea seeking cancellation of the festival this year ruled, "We consider it appropriate that in the interest of public health and safety of citizens to restrain the respondents from holding the Rath Yatra this year. We direct that no Rath Yatra will be held in temple areas of Odisha."
Taking up a plea filed by Odisha Vikash Parishad, the bench noted, "Lord Jagannath will not forgive us if we allow this to continue. Activities related to the Rath Yatra is injuncted."
The bench further ordered that no secular or religious activity associated with the Rath Yatra will take place this year. The matter has been listed for hearing after 4 weeks.
The solicitor general Mukul Rohatgi appearing for the petitioner during the hearing submitted that a congregation of lakhs of people cannot be allowed for the Yatra amid the Covid pandemic. "It will be impossible to contain such a large gathering. Even the Olympics have been postponed this year," pointede out Rohatgi.
The intervenors repeatedly asked the the court for the rituals to be allowed to continue as they are religious in nature.
The court refused to entertain the submission of the solicitor general Tushar Mehta that the sensitivity of the matter requires that some rituals are allowed, and said, "The word 'juggernaut' comes from Jagannath; a juggernaut cannot be stopped. So, Lord Jagannath cannot be stopped by this."
Ratha Yatra is falling on June 23 this year. The Lord Jaganath along with his siblings Lord Balabhadra and Godess Subadhra comes out from the temple on a 9-day annual journey every year during this time.