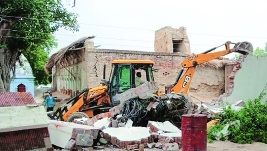 By Jugaad Journalist
Kanpur: The IG Police of Kanpur,Mohit Agarwal has given an innovative idea to all the investigating agencies of the country.
The ground on which Mohit grounded the house of dreaded criminal Vikash Dubey, accused in the recent killing of 8 policemen, has, in fact, empowered the investigating agencies.
For any investigating agency, it is now easy to demolish a house or a structure of an accused person. There is no need to dabble in legal correctness to rage the structure.
Just build a case that arms and ammunation and explosive are hidden in the walls and pillars of the house/structure. In case of CBI, ED and IT it is cash, gold and for excise it is countrabands.
Demolish the house and search for the incriminating evidences.
Whether you find anything or not is not important. What is important is the search operations which will establish the investigative agencies' credibility in public eyes.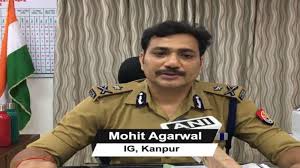 Mohit Agarwal in a interview to television channel said that the Vikas Dubey's house need to be demolished as there were report that he had stored huge quantities of arms and ammunations and explosives in the bunker of the house. He has also kept gold and cash, earned through his criminal activities, in the walls of the house.
The police have seized huge quantity of arms and ammunation and explosives from his house after it was demolished. It is always better if something seized from the debris of the house! For, that would soar the image of the establishment in the eyes of the people.
So, criminals, mafias, drug dealers corrupt officers and unscrupulous businessmen be careful. Don't be in a misnomer that the investigative agencies have to obtained legal permission to demolish your palaces.