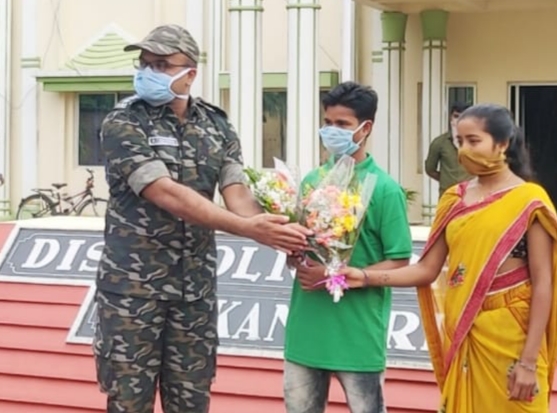 Bhubaneswar: Are Odisha tribals living in Mao infested areas were trapped by the Left-Wing Extremist (LWE) groups?
That is what it appears to be given the statements given by Lake Punem @ Lake, who has surrendered before the Makangiri police on Sunday.
Punem has told the police that the Maoist leaders are using innocent tribals of the region for their own individual/vested interests. For that they are making innocent tribals to fight amongst themselves and once their utility is over, they are being branded as police informers and being killed mercilessly, she said adding, "The best example of this was recent Jodambo incident wherein Maoists had tried to destroy Jodambo and surrounding villages who had dared to question their obstructionist, anti-tribal activities, by firing at them indiscriminately, throwing grenades and setting ablaze number of houses by pouring kerosene and by looting away their properties."
The surrendered Maoist woman cadre said that she got disillusioned with the behaviour of senior Maoist leaders (which mostly comprises of Telugu speakers) on regional lines through their partiality towards Telugu cadres over other local tribal cadres. Local tribal cadres are consistently being given step-motherly treatment, are being denied promotion in the party and are just being used as foot soldiers, who will stay at the frontline during exchange of fire with police while the big cadres are escaping from the spot under their cover, as had happened in many instances.
She said she got disappointed with behaviour of Maoist leaders towards women cadres because of persistent gender discrimination between male and female cadres in promotions as well as overall treatment towards them. Female cadres are being used in the party only for miscellaneous works. They are also subjected to continuous physical and mental harassment and are often left neglected, she alleged.
Punem had joined the banned CPI (Maoist) party in Usoor LOS of Dakhin Bastar Division in April 2018 and was subsequently transferred to cut-off area in the same year. Currently she was working as Party Member of AOB Military Platoon under AOBSZC and was carrying a cash reward of Rs.2 Lakhs announced by the government of Odisha.
Lunem said she decided to join the mainstream as she realised that there is no need to take the path of violence in view of the development taking place in Swabhiman Anchal of Malkanagir district after the opening of the Gurupriya bridge for the public.
Recently, the Odisha chief minister Naveen Patnaik and Police DGP Abhay had given a call to active Naxal and militias for surrendering and becoming part of mainstream by becoming part of the developmental initiatives. This appeal has also influenced her to give up the path of violence and to join the mainstream.
Punem will get monetary assistance as per the Surrender and Rehabilitation Scheme of government of Odisha. She will also get financial assistance for building house, pursuing studies and getting training in a trade/vocation of her will.
Another Maoist Kanna Madi has also surrendered before the Malkangir police on Sunday.
Kanna Madi @ Kanna joined the outlawed CPI Maoist party in Kalimela and had become the Area Committed Member of AOB Military Platoon under AOBSZC and was carrying a cash reward of Rs 4 lakh announced by Odisha government.