Koraput(Odisha): The three-day online theatre festival organized by Nandanik, a theatre group based in Koraput, concluded amidst a huge virtual viewership. The Festival organized on the occasion of the 6th Foundation Day and 5th Deomali National Theatre Festival of Nandanik was inaugurated Odisha culture minister Jyoti Prakash Panigrahi,of Odisha, Congress MP Saptagiri Ulaka, Odisha Sangeet Natak Akademi secretary Prabodh Rath and veteran thespian Ananta Mahapatra.
The festival was dedicated to Girish Karnad, Irfan Khan, Usha Ganguli and Bijay Mohanty, the four theatre personality who passed away recently.
The programme comprised foundation day lecture by eminent danceuse Padma Bibhushan Dr Sonal Mansingh on Abhinaya & Abhivyakti in Dance, Asim Basu Memorial Award presentation to Himanshu Ranjan Satapthy and release of Nandanik's activity e-book by IIMC, Dhenkanal, director Mrinal Chaterjee.
There were two webinars on the topics 'Literature & Theatre' and 'Theatre: Classical vs. Folk' and the panel comprised Nabin Parida, Narayan Sahoo, Jayanta Kar Sharma, Anshuman Bhowmik, Namrata Chaddha, Kriti Mazumder, Narayan Panda, Sanjay Hati, Pritidhara Samal, Avi Chakrabarty, Sangita Chakrabarty, Harish Ethape, Surabhi Biplove, Debapriya Priyadarshi Chakra, Ranjit Jena and Monideepa Gupta.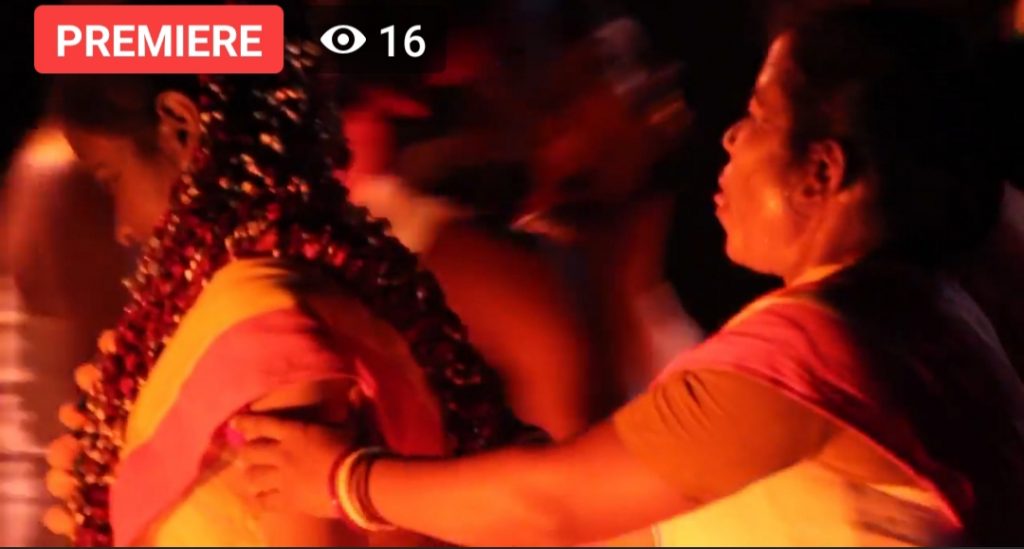 The dramas presented formed the main attraction of the national level multilingual festival. Eight plays in five Indian languages were streamed at the festival. It included Terrorism (Mime Drama) by Mimic, Kolkata, Nayeeka (Odia) by Nandanik, Koraput, Sujaner Golpo (Bangla) by Ashoknagar Nattyamukh, West Bengal, Dhruvaswamini (Hindi) by Black Soil Theatre, Wardha, Terav (Marathi) by Adhyayan Bharati Agro Theatre, Maharashtra, Bali (Telegu) by Janapadam Travelling Repertory, Hyderabad, Devigarjan (Bangla) by Kathok Performing Repertoire, Howrah and Chandaluni (Odia) by Nandanik, Koraput. All the dramas were appreciated by the audience for their content and presentation.
While Nayeeka (dir:Sourav Gupta) by Nandanik mesmerized the audience through its romantic expression of Ramakanta Rath's poems, Sujaner Golpo (dir: Sangita Chakrabarty) , based on Satyajit Ray's story was a treat for young audiences. Dhruvswamini (dir: Surabhi Biplove) introduced audience to famed Hindi author Jaishankar Prasad and Terav (dir: Harish Ethape), a play in Marathi portrayed the extraordinary efforts by the wives of the distressed farmers of Maharashtra.
The Mime play Terrorism (dir: Ranen Chakrabarty) depicted the current problems through language of silence. The play Bali (dir: Srinivas Denchanala) by Girish Karnad and Devigarjan (dir: Kriti Mazumdar) by Bijan Bhattacharya are two cult in theatre beautifully portrayed in classical and folk idioms.
Nandanik's concluding play Chandaluni (dir: Sourav Gupta) was a minimalist adaptation of the timeless Lakhmi puran Shriya Chandaluni by Balaram Das and underlined woman empowerment. Chandaluni was characterized by folk style of musical theatre.
All the plays were aesthetically presented and pulled a huge viewership. The plays were streamed in premiere mode through Nandanik's Facebook page and shared widely across multiple platforms. All the plays received huge virtual reach, the highest being 8,000 plus and lowest being 400 plus. On an average the reach of each event was 2,000 plus.
"We are happy that even during the troubled time of Covid-19, theatre artists of 8 organizations of different States came together and supported us to create some vibration when theatre has become non functional due to health norms. We expect normalcy to resume soon and get back to action." said secretary & convener of the Nandanik Theatre Festival Monideepa Gupta
"Online is not an alternative to real theatre, it can never be. We wanted to create a vibration in theatre artists who are depressed and take their artistic work to the audience because that is what an artist strives for. We are happy that this was for the first time in Odisha and our efforts received support & appreciation. The virtual reach and views is beyond expectation and it will provide some solace to the participating groups, I believe." said Nandanik creative director Sourav Gupta.
"We started the festival 5 years back to expose the people of Koraput to national theatre and I am happy that through online mode our festival has reached audience throughout the globe. This programme has placed the name of Koraput in global circles" said Nandanik treasurer Saumendra Kr Swain.
Established in 2014 by Sourav Gupta and Monideepa Gupta, Nandanik has produced 10 plays in Odia based on classics, literature and folk and organized events in collaboration with Sangeet Natak Akademi, New Delhi and Eastern Zonal Cultural Centre, Kolkata. In a very short span of time Nandanik has placed Koraput in theatre map of India.