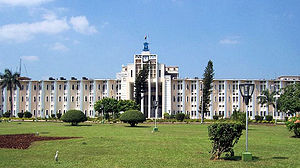 Bhubaneswar: The Odisha government Wednesday decided to enhance in-service promotion quota to Odisha Revenue Service (ORS) from 30% to 40%.
The State cabinet, which met under the chairmanship of chief minister, Naveen Patnaik, here on Wednesday has decided to amend the ORS (Recruitment) Rules to this effect.
The cadre strength of Odisha Revenue Service (ORS, Group-B) is 1092. As per the Odisha Revenue Service (Recruitment) Rules, 2011, 30% of the cadre strength shall be filled up by way of promotion of officers of outstanding merit from among Consolidator Grade-I, Kanungo, Revenue Supervisor, Revenue Inspector or Ministerial officers under Revenue & DM Department. Similarly, 20% of the cadre strength shall be filled up by way of selection from among Group-C officials who has worked at least 5 years in Group-C post carrying a pay scale of Rs. 9,300- Rs. 34,800, GP- 4200 or in higher pay scale.

The Odisha Rajaswa Amala Sangha have been demanding for their higher representation in ORS cadre since they are the grass root officials in Revenue Administration in the State. In order to address their grievance, a high level meeting under the chairmanship of Chief Secretary was held on 22.05.2018 in presence of Principal Secretary, Revenue & DM/ Principal Secretary, Finance Department and it was decided to recommend to increase the Promotion Quota considering the long term experience of Revenue field and Ministerial officers into account and for successful discharging responsibility and duty under Odisha Revenue Service. Accordingly, it was decided in the said meeting that out of the 20% reserved for selection, 10% will be diverted to the existing 30% reserved for Revenue Department against Promotional Quota and out of the total 40% which would be reserved for the revenue employees, 60% will be earmarked for the Revenue Ministerial Staff. Further, in the event of any difficulty in the filling up promotion quota due to shortage of Revenue field Staff, the vacancies may be filled up by the Revenue Ministerial Staff.
The Government order obtained to move Cabinet for a decision to increase the existing promotional quota from 30% to 40% in Odisha Revenue Service.
This will help in adequate presence of Revenue field and Ministerial officials in Odisha Revenue Service and they can discharge the duties and responsibilities of Odisha Revenue Service in a better way in view of their long working experience in Revenue matters at grass root level.