Bhubaneswar: The second evening of the 26th OMC Guru Kelucharan Mohapatra Award Festival witnessed a spectacular performance by P. Praveen Kumar of Bangaluru on 6th September 2020. The programme was followed by Mardala recital by eminent percussionist of Odisha Guru Dhaneswar Swain.
The 5-day 26th OMC Guru Kelucharan Mohalatra Award Festival, a classical dance and music extravaganza, is being organised by Srjan, a premier Odissi dance institution of India. The event is curated and designed by Srjan founder Guru Ratikanta Mohapatra.

P. Praveen Kumar, an accomplished Bharatanatyam artiste, Nattuvanar, choreographer, and founder of Chithkala School of Dance, started with the Aditya Hridayam, a hymn in glorification of the sun followed by a powerful rendition of a Jathiswaram or a technical dance piece, set to Raga Abhogi and Adi Talam composed by Kameshwaran and choreographed by Guru Narmada. He concluded with Devaranama, composed by Saint Purandara Dasa, and set to traditional music.
In Raga Malika and Adi Tala, P. Praveen Kumar presented his own choreography, eulogizing Lord Krishna in two different episodes, where Lord Krishna's mother beholds the entire universe in his mouth, and where Lord Vishnu asks a kind and benevolent, yet egoistic King for three feet of land.
In his presentations, he was ably accompanied by Raghuram, D. S. Srivatsa, and Manasi Prasad on vocals, Lingaraju and S.V. Balakrishna on the Mridangam, Mahesh Swamy on the flute, Manjula and Chitra Lingam on the Veena. His nuanced recital reflected his strong adherence to the traditional values of Bharatanatyam, while exploring his own interpretations of the themes and his individual creative expressions.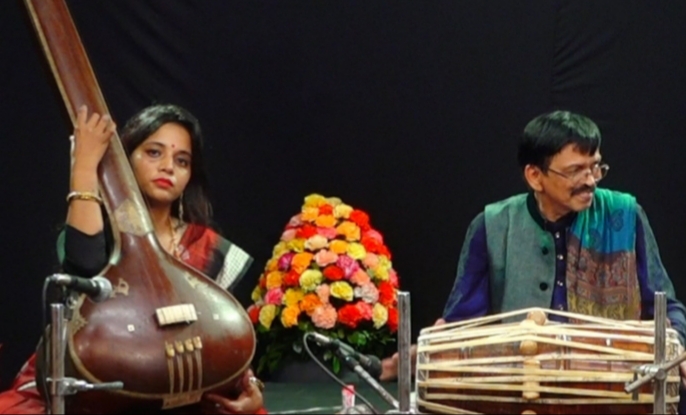 This was followed by a Mardala recital by one of Odisha's finest Mardala exponents, Guru Dhaneswar Swain, who presented compositions in Adi Tala, set to 16 beats. Accompanied by Muralidhara Swain on the Harmonium and Barsha Rani Swain on the Tanpura, Guru Dhaneswar Swain's presentation was a testament to his continued contribution to the promotion, propagation, and establishment of the Mardala as a solo instrument. Delving into the resounding intricacies of rhythm and percussion play, this presentation was a vibrant and befitting conclusion to the second evening of the 26th OMC Guru Kelucharan Mohapatra Award Festival.
Maya Krishnamurty, member of Srjan Ensemble was the eminent guest of the 2nd evening of the Festival.
The third evening features a Kathak performance by Gauri Diwakar, followed by a Carnatic Vocal recital by Abhishek Raghuram.