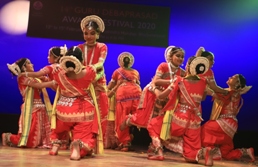 Bhubaneswar : The 14th Guru Debaprasad Award Festival organized by Tridhara a pioneer organization which upholds the unique style of Guru Debaprasad Das. Award festival started with great enthusiasm and excitement among the art connoisseurs thronging to Rabindra Mandap on 13th February 2021. The festival is still continued on 14th and 15th February 2021 at Rabindra Mandap, Bhubaneswar from 6 pm onwards. The objective of organizing this festival is to showcase and promote Odissi Dance a synthetic gharana taking to the essence of tribal and folk traditions. At the outset Esteemed Guest presented Lifetime Achievement Award to Bhajan Samrat Padmashri Pandit Anup Jalota for his life time contribution in the field of Indian Classical Music.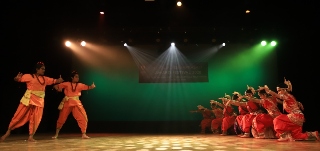 The first presentation in the inaugural evening was Odissi Dance Drama "Sankhipta Ramayana" by the senior dancers of Tridhara. The dance was choreographed by Guru Gajendra Kumar Panda and music given by Guru Pandit Haramohan Khuntia. The dancers of Tridhara was marked by fluid grace, immaculate body movements with amazing precision and charming gestures and postures during the dance drama.
The second presentation of the evening was Bhajan and Ghazal by Bhajan Samrat Padmashri Pandit Anup Jalota. He is presented some of his popular Bhajans include Aisi Lagi Lagan, Main Nahi Makhan Khayo, Rang De Chunariya, Jag Me Sundar Hai Do Naam, etc. He was accompanied by Pandit Prosenjit Poddar in Tabla, Prof Jabahar Mishra in Flute, Pandit Ramlal Mishra in Sarangi, Kousik Mukherjee in Keyboard and Arindam Ghosh in Guitar. The art connoisseurs were captivated by the superb presentation of the evening's musical programme and were present till the end.
The dignitaries who graced the occasion were Suresh Chandra Panda, Former Secretary, Government of India; Dhirendra Kumar Mishra, Principal Income Tax Commissioner; Niranjan Rath, Secretary, Loka Sevaka Mandal and Publisher, The Samaj; Nishikanta Mishra, CMD, Team Admark; Dr. Iti Samanta, Editor, Kadmbini; Simanchala Panda, Working President, Tridhara and Guru Gajendra Kumar Panda, Director, Tridhara. The programme was anchored by Dr. En. Srinivas Ghatuari.