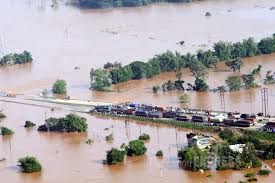 Bhubaneswar: The Odisha government Wednesday assessed the losses and damages due to the recent flood at  Rs219 crore. Sending a copy of the report to the Centre, the state government has demanded early action for restoration works.
"The financial loss caused by these floods has been estimated at Rs 218.72 crore based on the reports received from the affected districts and the concerned departments," said the Special Relief Commissioner, BP Sethi.  The report on damage has been sent to the union ministry of home affairs urging the Centre to take immediate action for restoration of damages caused to railway tracks and bridges, national highways, and telecom lines and structures, he added.
The report has taken into consideration the cost of damages during floods in five southern districts of Rayagada, Kalahandi, Malkangiri, Nawarangpur and Koraput which were severely affected due to heavy rain. It has also covered the losses due to the floods in the rivers of Nagavali, Kalyani, Indravati, Turi, Bhaskel, Bangeri and Hati between July 15 and 19. Nearly 1.82 lakh people in 528 villages of 33 blocks of these five districts were affected by these floods. As per preliminary assessment, 5136 private houses have been damaged. Similarly, the flood water has badly affected 23991 hectare of agriculture land. Agriculture land to the extent of 110.66 hectare has been sand cast in Nawarangpur district. Massive damage has been caused to public properties like canal/river embankments, roads, bridges, culverts, drains, water works, tube wells, LI points, electrical installations, telecommunications infrastructure, government buildings.
About 116 PWD roads measuring 597.125 km have been damaged. Also, 160 CD works on PWD roads have been damaged and 31 breaches had occurred on PWD roads. Similarly rural roads measuring length of 128.320 km have been badly damaged. As many as 71 breaches have occurred in rural roads, 66 CD works have been damaged and 7 CDs have been washed away.
Soil conservation structures, water harvesting structures and check dams in Rayagada, Nabarangpur, Kalahandi and Malkangiri districts have been damaged in the flood .  Similarly, 83 Anganwadi Centres, 84 primary and upper primary schools and 38 high schools have been damaged due to floods in Rayagada and Kalahandi districts. As many as 372 lift irrigation points of Kalahandi Districts have been damaged due to flood water.
The floods in rivers Nagavalo and Kalyani had played havoc in two scheduled tribe dominated blocks Kalyansinghpur and Rayagada of Rayagada district in southern Odisha. While there was no human casualty in the worst affected Rayagada district due to proactive steps of the state government,  reports of loss of lives were received from Kalahandi and Malkangiri districts.