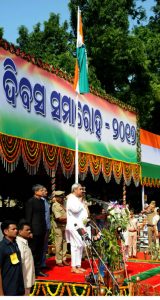 Bhubaneswar: "By 2036 when  we will be celebrating 100 years of statehood, Odisha will be a poverty free state", assured the chief minister Naveen Patnaik while delivering his Independence Day speech at a state-level ceremony held here on the Mahatma Gandhi Road on Tuesday.
Naveen said that the state has achieved 25% reductions in poverty rate during 2004 and 2011. And according to the Niti Ayog, this is the fastest reductions in the country. He asserted that the reduction of poverty rate would faster in the coming five years as the state government has taken several anti-poverty measures.
Dwelling upon the success of his government, Patnaik said that the IMR in the state has come down to the national average and the rate is reducing at a fastest speed in the country. The government has given all importance to the agriculture and farmers. Mission Sahkti has successfully empowered the women in the state.
Stating that the government's initiatives in developing infrastructures and skilled menpower has resulted in high investments in the state.
The successful hosting of the Asian Athletics Championship has acted as impetus for development of sports in the state.
Referring to the recent cabinet decision for constitution of Special Tribal Development Councils in 9 tribal dominated districts, Naveen said this would empower the tribals particularly the primitive tribals living in interiours of the state.