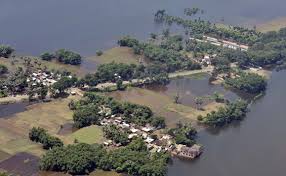 New Delhi: Prime minister Narendra Modi Saturday announced Rs 500 crore relief package for the flood affected Bihar. Modi, who undertook an aerial survey of the flood affected areas in Bihar on Saturday, took stock of the relief, rehabilitation and compensation measures in detail with the state chief minister Nitish Kumar, deputy chief minister Sushil Modi and senior state officials in Purnea.
The Prime Minister assured that a central team will visit the state soon to assess the extent of damage and relief.
Prime minister Modi and his Nepalese counterpart Sher Bahadur Deuba have agreed to have a detailed project report prepared at the earliest on the Saptkosi high dam project and Sunkosi storage cum diversion scheme, Both the nations have also agreed to enhance the co-ordination in the areas of water logging and flood control. It will give a boost to flood control measures in the entire region.