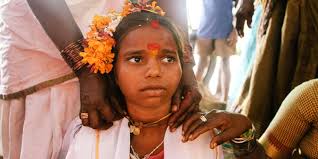 New Delhi: In Mathamma temple in Thiruvallur district in Tamil Nadu girls are sexually exploited. They are first dressed for a ceremony after being forcefully taken to the temple . Once the ceremony is over, their dresses are removed  by five boys, virtually leaving them naked. They are denied to live with their families and have education. They are forced to live in Mathamma temple deemed to be a public property and sexually exploited.
These are the allegations made in a petition to the National Human Rights Commission(NHRC) .
The NHRC, while taking cognizance of  the petition and also media reports,  has issued notices to Andhra Pradesh and Tamil Nadu governments on the prevalence of Debadasi system in Mathamma temple in Thiruvallur district of Tamil Nadu.
The petitioner has drawn the attention of NHRC towards the inhuman treatment being meted out to the girl children and women folk, who are forcibly taken from Andhra Pradesh and Tamil Nadu and offered to the temple of Goddess Mathamma. Allegedly, this practice is another form of Devadasi system, which is still practiced in some parts of Tamil Nadu and Andhra Pradesh, the petitioner has pointed out.
The Commission has observed that the allegations made in complaint as well as a media report about the continuance of this practice are serious in nature, and if true, these amount to violation of human rights including Rights to Education, Life and Dignity besides Children's rights.
The NHRC has served notices on the chief secretaries and the director generals of police of Tamil Nadu and Andhra Pradesh and to the district magistrates and superintendents of police of Thiruvallur district in Tamil Nadu and Chittoor district in Andhra Pradesh, calling for reports within four weeks in the matter.