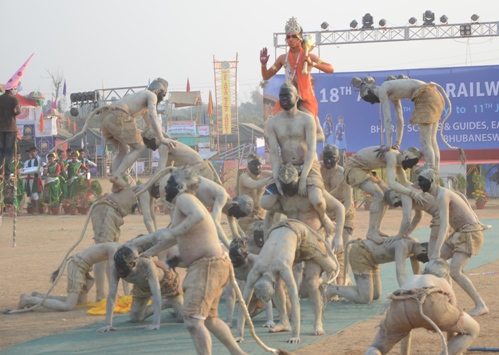 ECoRly Bags Overall Efficiency Shield
Bhubaneswar: The 18th All India Railway Bharat Scouts & Guides Jamborette concluded, here on Wednesday.
The Odisha governor, S. C. Jamir , while gracing the closing ceremony,  said that Bharat Scouts & Guides builds such men and  women to bring out aspirations of young people without losing sight of its core values having ability to transform lives. Bharat Scouts & Guides strives to extend its reach even further so that every young person across the country has the opportunity to make themselves as responsible citizen of the country and as a member of their local, national and international communities.

Manju Ray, the ECoRly principal chief personnel officer who is also the state chief commissioner of Bharat Scouts & Guides,  informed about the Jamborette organised from 6th to 11th January, 2018 where more than 2500 Railway Bharat Scouts & Guides volunteers from 16 Zonal Railways participated.
Alemela Jamir, the first lady of the state, Rajeev Sharma, additional general manager of ECoRly, and MK Poddar, the  chief workshop manager who is also the president of ECoRly Bharat Scouts & Guides central division, also graced the occasion.