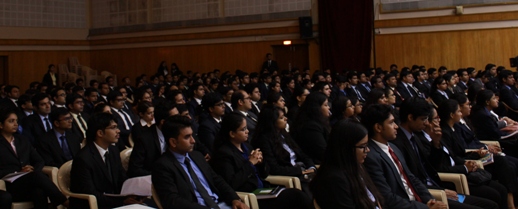 Bhubaneswar: 'Envision 2018', the annual business conclave organized by X-SYS, the Systems Association of XIMB, was held here on Sunday. The theme for this year's conclave was 'Leveraging A.I. for Business Transformation'.
Mr. Anjani Kumar  The global chief digital officer, Collabera Inc., Anjani Kumar, head – business and future tech of M & M Financial Services, Suresh A Shan, head- AI of Yes Bank, Utpal Chakraborty, group CIO of Safexpress Kapil Mahajan and director Avasant Shobhit Patnaik addressed the conclave which was moderated by XIMB Information Systems professor Sanjay Mohapatra.
Anjani Kumar said: "AI is the buzzword of the industry. You are the catalyst to AI being adopted in the right way." Suresh A Shan said about how India perceives artificial intelligence and how customers expect a lot without fully being aware of the scope and purpose of AI. Dwelling upon the persistent fear factor regarding AI that has been created among executives, he gave an insightful description of the key aspects of AI and its role in customer engagement.  Kapil Mahajan said it was in 1950's, John McArthy coined the term IA.  Soon after he stressed over how crucial and interesting this current phase of technology is. He described this phase to be the one of change, with big things around the corner. "Data is the new oil and AI is the new electricity". His words focused on the importance of having AI in all our business ventures. Utpal Chakraborth went on to explain the known areas of AI such as health care and tourism. "Along with AI, virtual reality (VR) and augmented reality (AR) are picking up", he stated, further explaining how AI and VR were used in hotels to create a virtual beach experience.
Shobhit Patnaik  spoke about AI as a component of a larger ecosystem where it works in combination with a number of other technologies to run a business. He highlighted the impact that technology was having on us, stating that "We have started becoming slaves to technology. To end with he spoke about various verticals and pillars AI depends on and how it's changing the demand in an ever-dynamic market. XIMB Information System associate professor Bhaskar Basu also spoke on the occasion .