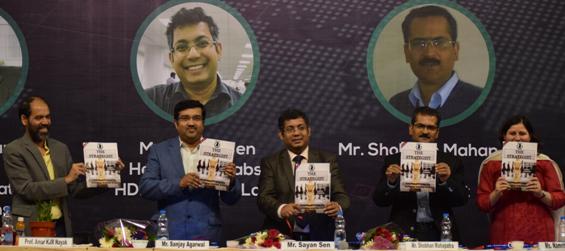 Bhubaneswar: Constrat, the consulting & strategy consortium of XIMB organised the annual business conclave 'Stratonomics', here in XIMB campus on Sunday.The theme for the conclave was 'Dynamics of strategy in a Technology and Data-Driven world'.
The CFO of Communications Payment Solution,Sanjay Agarwal, Head of HDFC Life Dtata Lab Sayan Sen, CIO of Birlasoft Shobhan Mahapatra, and  senior general manager of Mahindra group Namrita Mahindro addressed the conclave. XIMB's prof. Amar KJR Nayak served as the moderator for the event. Constrat coordinator Nagaraj RG, also addressed the conclave.
Namrita Mahindro was the first speaker of the day. She started her address by quoting Charles Darwin that not the strongest or the sharpest, but those that adapt best will survive. She went on to stress how customer expectation is changing and how good experience is the benchmark for comparison between products, highlighted that digital masters outperform their peers in every single business metric. She focused on leveraging digital technology as the basis for business growth, future value creation, evolving ecosystems in an organization using platform technology.
Shobhan Mahapatra spoke on the topic of Dynamics of Strategy in today's 'Data-driven' world. He explored the use of data sciences to answer the questions pertaining to the organization of how to increase productivity, which geography to target, which business model to adopt for the organizations to grow 'profitably and sustainably'. He observed that every 3 years, data collected will double and this humongous amount of data will unveil the opportunity galore for businesses, saying 'World is the market'. He also spoke about machine learning. He concluded by stressing how the third world war can be in cyberspace and how this impacts our present strategy.
Sayan Sen noted that with the digital and data-driven transformation, the role of strategist has been rediscovered. He went to elaborate the use of data led innovation in the life insurance business. He elaborated on how to augment the data collected, how to ensure frictionless customer experience and risk management using digitalization and cloud-based service network. He highlighted the concept of facial underwriting and also spoke on predictive analysis using data technology across the customer lifecycle.
Sanjay Agarwal discussed about using data analytics in capturing the behavioral shift in customers. He explored the definition of strategy and illustrated the flow of an organization's vision to mission to goals and finally strategy and the use of all data in formulating the strategy.
He observed that 'Data and its analysis is the new oil' for organizations.
The speeches were followed by an interactive Q&A session. Prof Nayak shared his insights and learnings with the audience. Constrat's annual magazine 'Strategist -2018' was released on this occasion.