Bhubaneswar : The 15th Dhauli-Kalinga Mahotsav witnessed an evening showcasing a beautiful blend of instrumental, classical and martial dances which regaled a large audience gathered at the foothill of Dhauli, here on Saturday.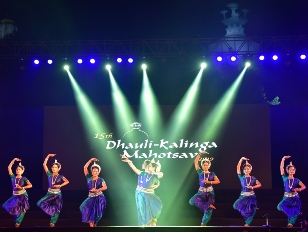 The first act was Mahodadhi, a musical narrative based on the sacred river that washes feet of Lord Jagannath. Performed by Musical Orchestra led by Guru Dhaneswar Swain and Guru Ramhari Das, it set the high pitched tone for the evening with its medley playing on musical instruments like violin, sitar, flute, Odissi mardala , tabla, dholak, octopad, khol (mridunga in Odia) and keyboard.
The second Odissi performance choreographed By Odissi dancer Ratikanta Mohapatra had the audience spellboundedThe quick eye movements, graceful hand movement and fierce leg movements orchestrated a beguiling performance. The next Ardhnariswar Performance by Srjan displayed some intense facial expression.
The evening concluded with Manipuri Thang-Ta. THANG TA is popular term for the ancient Manipuri Martial Art known as HUYEN LALLONG. The performers both male and female initiated the act with a ceremonial bow soon after which the women displayed impressive sword swinging skills. The agility and flexibility of the artists had everyone in awe.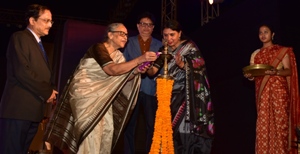 The dignitaries who graced the occasion were social activist Saswati Bala, former Board of Revenue member Ashok Kumar Tripathy, tourism joint director Utpal Kumar Pati, Odissi dance guru Aruna Mohanty.The programme was compered by Dr. Srinivas Ghatuari and Anuja Tarini Mishra.