Bhubaneswar: The Odisha government is going to enumerate the number of black buck in Balukhanda wildlife sanctuary on Puri-Konark marine drive to ascertain causality of the protected animal in the cyclone Fani.
There were 4000 black bucks in the sanctuary before the Fani devastated the sanctuary forest in May, 2019.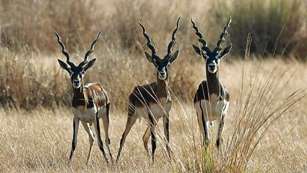 The State forest and environemtn minister, Bikram Keshri Arakhu, who made a surprise visit to the sanctuary on Saturday, directed that a census of the wildlife animal be carried out to ascertain their latest number after the cyclone.
Arakhu also directed that forest officials to create more grazing ground for the black buck as the existing 12 grounds are not adequate to meet their food demand. The minister also said that the anti-poaching squad be made more vigilant to check illegal killing of the wild animals.