Bhubaneswar: Dalmia Cemnet's Bharat Ltd. has come to support Pullela Gopichand Badminton Foundation(PGBF) to set up a High Performance Centre for Badminton (HPCB) in Bhubaneswar. The Company has committed Rs 30 crore to the Foundation through CSR initiative. The State government has already roped in PGBF to set up a HPCB in the State.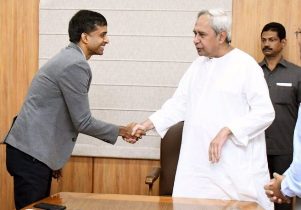 A comprehensive presentation on vision, design, road map for setting up a world class Badminton Academy with a high performance Centre was made before the chief minister Naveen Patnaik, here on Friday. Construction of the Center will start by December 2019 and will be completely ready within 12 months. The Badminton Academy will start functioning from the high performance Center from December 20120. The Academy will impart world class coaching and training facilities under the direct supervision and guidance of legendary badminton player and coach Pullela Gopichand.
Appreciating the efforts, the chief minister said, "With the vision Gopichand and support of Dalmia Bharat, I am sure high performance Center will be one of international standard training Centers of our country. The State government has provided 3 acres of land for the Center. The State government is also constructing a multi-purpose indoor hall inside the Kalinga Stadium campus which will be ready by February 2020, where the high performance Centre can start functioning immediately. Promotion of sports by industrial houses is a winning combination. My government will always encourage such initiatives for the cause of sports in Odisha."
PGBF founder Gopichand, chief secretary Asit Tripathy, sports principal secretary Vishal Dev, sports director Vineel Krishna, Dalmia Cement MD Puneet Dalmia were present.